365telugu.com online news,Hanamkonda,23 November 2021:The world's favourite biryani Paradise embraces one new spot among its series of outlets. Hopping to its neighbourhood at Hanamkonda, Paradise brings the iconic food destination much closer to its residents. Now Hanamkonda residents too can boast of the Omni Channel Restaurant as their latest landmark.
Bearing its historical significance and being one of the tri-cities of Warangal, Hanamkonda is also a great weekend getaway destination for many residents in Hyderabad and Telangana region. The city of the Thousand Pillar Temple now shares its address with the best Biryani hub. Having the new outlet in Hanamkonda is therefore a treat for the inbound visitors alongside the locals.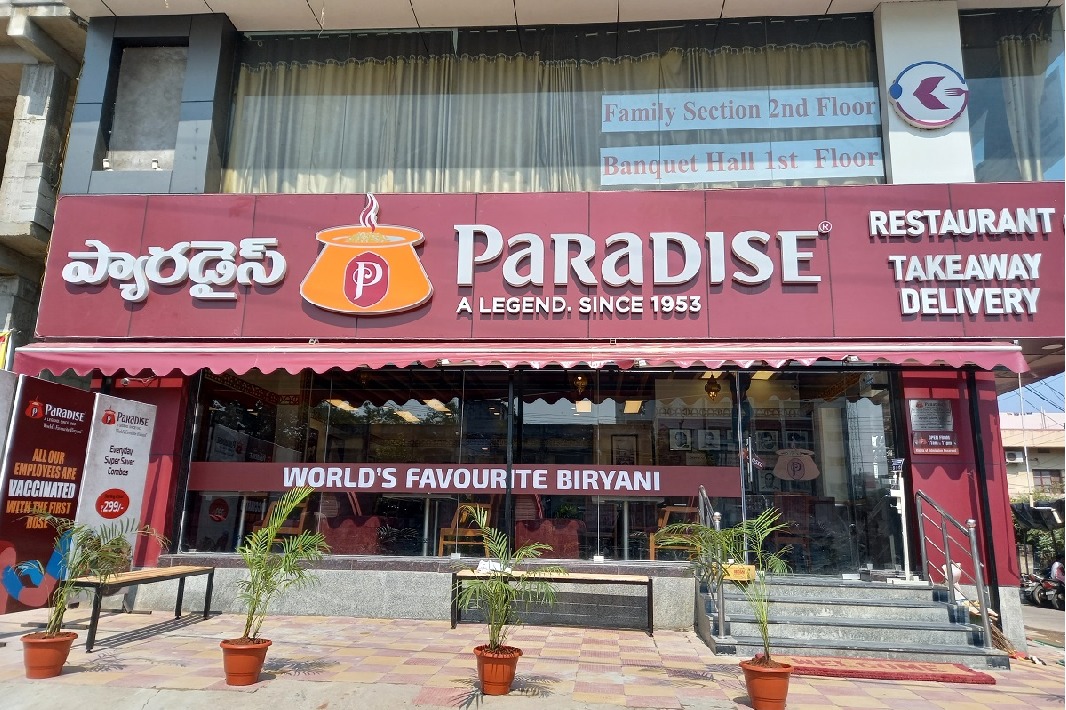 Guests can enjoy the best of Biryani, Kebabs and many more items that will be served to customer with topmost quality, utmost hygiene and care with food served is in line with safety measures required in current times. Located at Shastri Nagar, Main Road, Subedari, Hanamkonda, is a 1,500 sq.ft restaurant . The food lovers of Hanamkonda and nearby areas will now be able to relish Paradise's delicacies its iconic Biryanis, Kebabs and desserts to satisfy their taste buds.
On the launch of the new restaurant, Mr. Ali Hemati, Chairman – Paradise Food Court Pvt. Ltd. said, "Hanamkonda is an interesting choice for our new outlet. Given that the city is in proximity to Hyderabad and there are students and businessmen who do commute from Warangal region to Hyderabad regularly, opening Paradise outlet makes sense. This is besides bringing together the cultures of both Hyderabad and Warangal – one reminiscent of the Nizam's era and the other for the Kakatiyas. Food-lovers from Hanamkonda have found their favourite biryani destination coming closer to their doors while it also gives a great reason for those seeking weekend get-aways in Warangal. Hanamkonda attracts a hoard of visitors everyday to the Thousand Pillar Temple. So, it makes an ideal choice for both heritage and food buffs in that it's a blend of grandeur and sumptuousness in one city."
"We are excited for our new launch in Hanamkonda. By bringing the world's favourite biryani here, we are celebrating decades of legacy of Paradise along with the historical significance that Hanamkonda has. We are sure tourists and visitors alike would reckon dining here and take back fond memories with them" added Dr. Kazim Hemati, Director – Paradise Food Court Pvt. Ltd.
Mr. Gautam Gupta, CEO- Paradise Food Court Pvt. Ltd. said, "As one of the top-must visit food destination in India, and as a part of our expansion plan, Hamankonda turns out to be a good choice for our 43rd Restaurant. Also, it is within Telangana stage, so it's a good blend of the Nizami heritage and that of the Kakatiyas. We have endeavoured to bring the best quality food and in keeping up with our legacy we are ensuring that the heritage of good food meets the heritage of Telangana."
The food chain has acquired its place in the Limca Book of Records for 'Most Biryanis Served In A Year'. In 2017, Paradise catered over 70 lakh servings of biryani and in 2018 the numbers crossed over 90 lakh. Paradise also won the 'Restaurant Serving The Best Biryani' award at the Asia Food Congress and Golden Spoon Award at the India Food Forum in 2018. Through the years they have won several accolades and laurels from Telangana State Hotels Associations, GHMC, Times Food Award, Pride of Telangana and Lifetime Achievement Award to name a few.